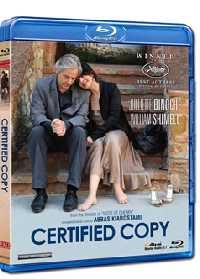 It's awards season, and I've spent the past couple of weeks poring through DVDs and reviews to make sure I haven't missed out on anything worthy of note. And in doing all that, I've noticed Abbas Kiarostami's excellent "Certified Copy" isn't available on Blu-ray in North America.
Mongrel released it on DVD earlier this fall, and the disc is pretty good, but "pretty good" doesn't always cut it when one has grown accustomed to 1080p/24 transfers on a large screen. I've been meaning to pick up the UK disc for a while, but I realize not everyone has access to a multi-region player.
Good news, though! There is a Region A BD out there, and it's available at an entirely reasonable price from the Hong Kong retailer DDDHouse right here.  This is likely to be the only Region A edition of the film for a while, so you know what to do.
(If anyone knows of a Criterion edition brewing, please let us know in the comments. Much appreciated.)