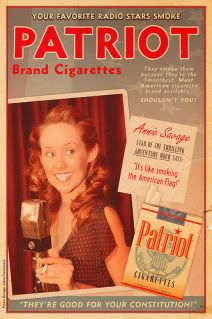 This is the first time I've been in Los Angeles in just over a year — since the "Black Swan" junket, to be precise — and the fates put me in town on the first weekend of the month. Which means I was able to catch a performance of The Thrilling Adventure Hour at Largo last night, and experience live the giddy madness I've been enjoying in podcast form for the past year or so — featuring a cast of people whose work I quite enjoy, including Nathan Fillion, Gillian Jacobs, Paul F. Tompkins, Chris Hardwick, Paul and Storm, Autumn Reeser, Garrett Dillahunt, Colin Hanks and Samm "Li'l Wolverine" Levine.
If you haven't heard of the show — available at these iTunes and SoundCloud links, which you should totally click on — it's a pretty nifty premise. It's a bunch of old-time radio serials, written by the very funny Ben Acker and Ben Blacker and performed by some extremely talented actors, comedians and comedian actors.
Alt-comedy godhead Tompkins and Paget Brewster (who was very funny on "Friends" and "Andy Richter Controls the Universe" before she got sucked into the sado-porn universe of "Criminal Minds" ) have a regular series called "Beyond Belief"; Fillion stars in his own vehicle, "Jefferson Reid, Ace American"; Reeser plays Amelia Earhart in a spinoff of Fillion's show … and I haven't even gotten to "Sparks Nevada, Marshal on Mars" and "The Cross-Time Adventures of Colonel Tick-Tock", which to my mind are TAH's signature shows.
In fact, if you have a moment, check out this Colonel Tick-Tock adventure, which ingeniously reimagines the infamous anarchists Sacco and Vanzetti as the original Odd Couple. Just hit the play button at the bottom of the page (or right-click here to download the MP3) and enjoy.
… and no, that is not Edgar Wright as the voice of the Trick Clock. That would be too perfect, I'm afraid.