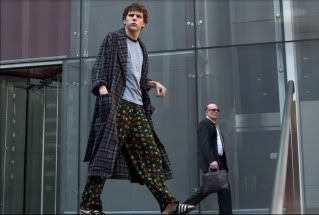 Acclaimed as the film of the year by virtually every critical body in North America (including my own), David Fincher's "The Social Network" is available on DVD and Blu-ray today. It's an excellent movie, and the home-video presentation is up to Fincher's usual high standards — top-notch transfer, comprehensive supplements, quietly stylish packaging. You should have this on your shelf.
My MSN DVD column isn't up yet, so I'll direct you to my NOW review of the picture from last fall, just to put you in the right frame of mind. I'll link to the column as soon as it's up.
UPDATE: We're live! Enjoy!