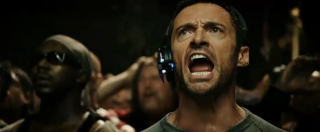 Oh, heartwarming stories of injured dolphins and the young boys who teach them to swim again are all well and good — though on second though, doesn't that sound like the worst Broadway show imaginable? — but you know what audiences really want to see?
Robots punching the crap out of each other! And if there's a heartwarming father-son story in there, well, that's nice too.
Anyway, that's a roundabout way to acknowledge that "Real Steel" ruled the weekend box office, grossing $27.3 million to easily beat the week's second-place title, George Clooney's "The Ides of March", which opened with a weakish $10.4 million. "Dolphin Tale" slipped to third with $9.2 million.
Any thoughts? Did you run with the robots this weekend, or did you vote Gosling? Because from those numbers, no one did both.