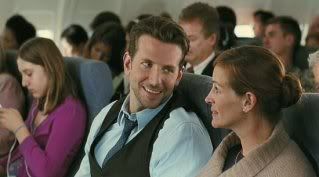 Garry Marshall's "Valentine's Day" dominated the box-office this weekend with a three-day gross of $52.4 million — and of course it did. You release a movie called "Valentine's Day" on Valentine's Day weekend, you're going to come out on top, even if the movie is horrible.
(Rad's exasperated take on it is representative of the general critical reaction.)
Bottom line? People like romantic comedies, especially in the middle of February, and Garry Marshall will keep making simplistic, pandering movies until they take his viewfinder from his cold, dead hands.
And then there's the other tragic story that broke this weekend: Kevin Smith was ejected from a Southwest Airlines flight over the weekend for being, as he puts it, "too fat to fly". He has responded to this insult with characteristic grace and wit, marshalling his 1.6 million Twitter followers to … I dunno, overload Southwest's e-mail server or something.
Anyway, the story's hit the AP wire now, so maybe this will turn into a teachable moment. We can always hope.