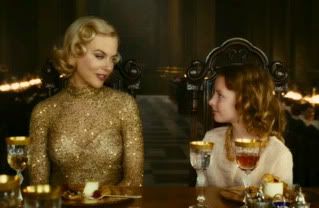 This week, the studios start to get serious and important after the relative frivolity of Thanksgiving blockbusters. I hope you brought your intense face.
"Atonement": Some critics are swooning over Joe Wright's luxe adaptation of Ian McEwan's novel; I am not one of them. I had the same response to this film as I did to Wright's feature-length compression of "Pride and Prejudice", which was that I appreciated the attention to detail in the production design and the costumes, and admired the camerawork, and didn't much care about the bigger picture. And if Keira Knightley doesn't learn to breathe through her nose, she's gonna end up with a chronic sinus infection, I just know it.
"The Golden Compass": Then again, "Atonement" looks like a masterpiece of storytelling when compared to Chris Weitz' compression of Philip Pullman's epic fantasy novel, which shoves as much plot as possible into every frame, at the cost of any possible emotional connection one might make with the characters. Who are these people? What sort of world do they inhabit? Yeah, great, it's shiny and has dirigibles and talking polar bears … but for the love of an absent god, the "Star Wars" prequels have more character development. And fewer insipid Kate Bush songs.
"The King of Kong": Now, this is a movie. Seth Gordon's weird little documentary, about the rivalry between a couple of thirtysomething Donkey Kong gamers — one an emotionally vulnerable family man, the other a swaggering douchebag — is the kind of character study that happens when the stars align just so, and a filmmaker finds the right angle on the perfect subjects. It'll be on DVD next month, so don't worry if you miss it in its limited theatrical run … but that said, I think this would be awesome to see with a crowd.
"Poor Boy's Game": Look, Clement Virgo's a really nice guy and he lives in my building and everything, but this is another one of his slickly produced disappointments. Good performances, sharp editing, and a script that starts off mired in cliche and goes completely off the rails by the third act. I really wish someone would give him a solid commercial script, because he's only ever as good as his material. And this material, specifically, kinda sucks.
More movies to see over the weekend, as the Toronto Film Critics Association deadline looms and everything has to be crushed into the next seven days. Yes, including "Alvin and the Chipmunks".
I really do love my job, you know.