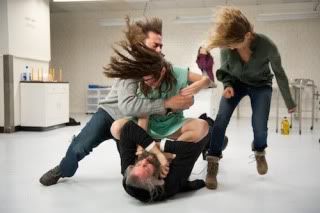 The Labor Day weekend releases are generally there to be shrugged off; the slot is a dumping ground for films in which no one believes. Things got better for a little while when Focus started using the last Wednesday of August to launch an arty thriller like "The Constant Gardener" or "The American", but this year they went with "Lawless", which smacks more of desperation than anything else.
So, what's out this week?
"The Bullet Vanishes": Law Chi-leung's tale of mismatched detectives in 1930s Shanghai sounded an awful lot like an uncredited Sherlock Holmes riff; Phil confirms that, but also says it's well-made and entertaining. So, yay.
"For a Good Time, Call": Revered Canadian short filmmaker Jamie Travis makes the jump to features with this comedy about two women (Ari Graynor and Lauren Miller) who bond while working a phone-sex line. Phil was unimpressed.
"In My Mother's Arms": Almost a year after its TIFF premiere, Atea and Mohamed Al Daradji's documentary about an Iraqi orphanage lands a commercial run. Susan calls it "devastating" but only gives it a 3/5 rating. Hmm.
"The Matchmaker": Israeli journeyman Avi Nesher staples a tale of post-Holocaust survivor's guilt onto a generic coming-of-age picture. The former's worth your time; the latter isn't.
"The Possession": Andrew finds Ole Bornedal's Dybbuk movie lacking in thrills and chills. But then, has there ever been a good Dybbuk picture? The Jumby movie wasn't exactly a film for the ages.
Oh, and "Jaws" is back at the Lightbox for the long weekend, but it won't be in Cinema 1 — that's given over to the 70mm revival of Jacques Tati's "Playtime", of which many of my colleagues think far more highly than I. Bonne chance.