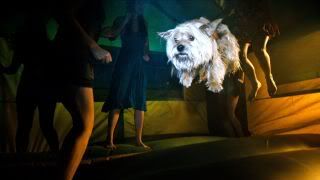 Lots of stuff opening this weekend. We are so very busy with the movies. Shall we get to it?
"Dr. Seuss' The Lorax": Three years after Horton heard the Who, here's another CG adaptation of a beloved children's book. Phil thinks it's okay.
"Family Portrait in Black and White": Julia Ivanova's documentary — a hit at Hot Docs last year — looks at a Ukraine woman raising more than 20 foster children of various races. Glenn thought it was terrific; I am eager to see it.
"Let the Bullets Fly": Jiang Wen's latest action extravaganza pits the director-star against a sneering Chow Yun-fat in a tale of shifting loyalties and general criminality. Andrew approves.
"Norwegian Wood": Tran Anh Hung's delicate study of love and loss finally gets a Toronto opening. You're going to go see  it, right?
"The Odds": Simon Reynolds' thriller about underage gambling came into TIFF with a great deal of buzz … and then people saw it. Rad still hates it like poison.
"Once Upon a Time in Anatolia":  Nuri Bilge Ceylan's deliberate, contemplative take on the police procedural will not work for everyone. (At nearly two and three-quarter hours, "deliberate" is an understatement.) But it certainly worked for me.
"Project X": Three high-school nerds bid for status by throwing a house party. Apocalypse ensues. Between this and "Chronicle", I find myself strangely optimistic for the found-footage genre.
"Tim & Eric's Billion Dollar Movie": The creators of "Tim & Eric: Awesome Show, Great Job!" vault to the big screen with uneven but very funny results. O, Taquito, we hardly knew ye.
"Undefeated": Believe it or not, Alliance scheduled Daniel Lindsay and T.J. Martin's rah-rah football study for release this week well before it won the Oscar for Best Feature Documentary. So it's just lucky … or Harvey Weinstein is more powerful than even I imagined. Rad has some reservations, but generally likes it.
That's plenty, right? And you could still see "Wanderlust", because it's definitely the funniest thing going.