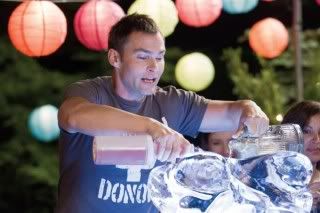 I mean, take a look at the week's openings. Admittedly, I haven't seen "Bully", which everyone seems pretty high on, but otherwise there's not a lot to get excited about. Take a look!
"American Reunion":  To quote the great Joan Cusack: "It was just as if everybody had swelled." Sadly, East Great Falls is far enough away from Grosse Pointe that no cross-over appears to have been possible. But wouldn't that have been great?
"Bully": Ginned-up controversies notwithstanding — a handful of bleeps would have solved the MPAA's problem right quick, wouldn't they? — Lee Hirsch's documentary, which screened earlier this year in the Human Rights Watch film festival, gets its chance to reach an audience. Susan hopes it catches on.
"Fightville": "Gunner Palace" directors Michael Tucker and Petra Epperlein examine a different sort of arena, following two aspiring MMA combatants through the Louisiana circuit. It's vicious, but you won't be able to look away.
"The Girl in the White Coat": Twenty years ago, Darrell James Wasyk caused a minor stir with his very silly junkie drama "H". Now he's back with an adaptation of Gogol's "The Overcoat", as translated by Lars Von Trier and the Dardennes brothers. I call bullshit.
"Lovers in a Dangerous Time":  The press material for this Canadian indie was very insistent on reminding me how Canadian it was, with its Canadian roots and its Canadian perspective on Canadian issues. What did Lisa Simpson say about patriotism and scoundrels again? Susan acknowledges that it is indeed Canadian, and wishes it was also, you know, good.
"The Moth Diaries": Resoundingly loathed at TIFF 2011, Mary Harron's rebuttal to the "Twilight" series — about a girl's boarding school which may or may not have a blood-drinker in residence  — finds a modest defender in Phil.
"The Salt of Life": Remember how much you liked "Mid-August Lunch", that movie where writer-director Gianni Di Gregorio ran around appreciating the subtle pleasures of everyday life? Well, he's at it again, and Glenn says the results are good enough. Me, I just want to see it for the dog.
"The Vanishing Spring Light": Last month's Doc Soup entry opens for a week at the Bloor. Not sure how much of an audience exists for a two-hour documentary about an elderly Chinese woman whose crumbling surroundings serve as a metaphor of her impending death, but it has its moments.
There! Now go have a bun or an egg  or something. Or some matzah, I guess … but take it from me, that's a really bad idea.