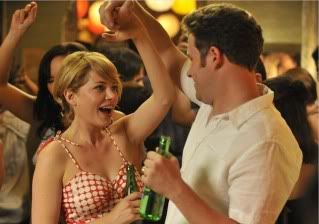 The Canada Day weekend is upon us, which means going outside and being in parks and lakes and stuff. But it's also going to be disgustingly humid, so if you find yourself needing to duck into an air-conditioned movie house for a couple of hours, you won't be lacking for options.
"Dark Horse": I grew tired of Todd Solondz' relentless wallowing in middle-class white misery several movies back; from Susan's review of his latest, it sounds like she's finally hitting the wall as well.
"Flamenco, Flamenco": Carlos Saura and Vittorio Storaro film some musical performances. People who like this sort of thing will like this sort of thing, you know? Me, I find my mind wandering by the fourth or fifth song.
"Magic Mike": Steven Soderbergh's male-stripper movie leavens the pop effervescence of the "Ocean's" trilogy with the economic consciousness of "The Girlfriend Experience". Trust me, this is a net positive.
"People Like Us": A Manhattan money guy (Chris Pine) learns some valuable life lessons after his father dies and leaves him a trail to the sister (Elizabeth Banks) he never knew existed. If Cameron Crowe decided to put his own spin on Lisa Chodolenko's "Laurel Canyon", it'd probably look a lot like this. Susan liked it a little more than I did.
"Take This Waltz": Sarah Polley goes for broke with her second feature — and captures something complex and fascinating, if not altogether cinematically successful. Oh, and here my NOW Q&A with Sarah from TIFF 2011, since I didn't get a chance to sit down with her again.
"Ted": Seth MacFarlane's first feature sounds very much like an alternate-universe iteration of "Family Guy"; this is intriguing, but I wasn't able to make it to the press screening. Rad's review should be up shortly, though.
"Town of Runners": Documentarian Jerry Rothwell brings his camera to the Ethiopian village of Bekoji, where the path out of town quite literally runs straight through the Olympics. Rad finds it intriguing if not compelling.
"Tyler Perry's Madea's Witness Protection": Every six months, like clockwork …
That's everything! Oh, but don't forget "Jaws", running in a new digital restoration at the Lightbox. If you've never seen it  in a theater, you literally don't know what you're missing.