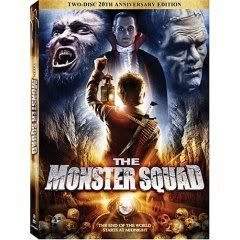 Lionsgate does.
Not only has the label just released a two-disc set of "Dirty Dancing" (available in a Blu-ray version, too!), but according to The Digital Bits, there's more to come — specifically, special editions of "The Manhattan Project" and "The Monster Squad", arriving on June 19th and July 24th, respectively.
Seriously.
Cinematical has the details on the "Monster Squad" extras, which sound like a great deal of fun. The Digital Bits has specs for the "Manhattan Project" disc here, though you have to squint. It sounds like a good package; they even got Robert Sean Leonard to participate in the audio commentary … which is odd, because I have no memory of him appearing in the film. (IMDb says he was, though.)
Way to go, Lionsgate. If enduring a terrible Larry the Cable Guy comedy every spring is the price I have to pay for the resurrection of my guilty teenage pleasures, then … wait, that came out wrong.
In Canada, by the way, these titles will be distributed by Maple Pictures. Just so nobody feels snubbed here.
Oh, and Lionsgate isn't the only studio cranking out the classics. MGM's all set to roll out its 20th anniversary edition of "RoboCop" on June 5th, including both the US R-rated theatrical version and Paul Verhoeven's legendary director's cut … and then, on July 17th, the studio brings out a movie I never thought I'd see as a two-disc set: "Red Dawn".
I guess it makes sense that John Milius whack-job apocalypse actioner would merit a revival in the wake of "Jericho", but … well, may God have mercy on us all.
That said, I know at least one person who can't wait to see it … guilty teenage pleasures are strange and terrible things.