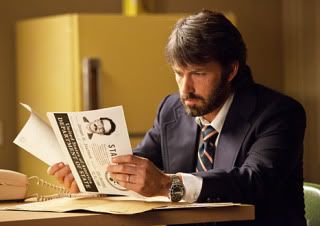 Three weeks after opening, Ben Affleck's "Argo" finally landed in first place at the box-office this weekend — with an admittedly piddly $12.4 million take, but I'm sure Warner and Affleck can live with it.
It was a dismal week for the movies; neither "Cloud Atlas" nor "Silent Hill: Revelation" drew substantial crowds, and the Gerard Butler surfing biopic "Chasing Mavericks" didn't even make it into the top ten. And constant media chatter about Hurricane Sandy surely kept East Coasters busy building rafts and securing their storm cellars. So "Hotel Transylvania" crept back into second place with $9.5 million … just $100,000 ahead of "Cloud Atlas".
I was in Chicago for the weekend, and "Hotel Transylvania" was the only movie being aggressively advertised there. Maybe Sony's playing a longer game than we realize.