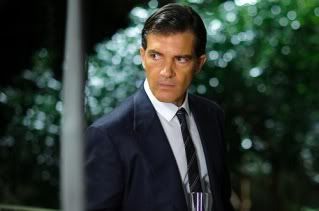 I'm pressed for time today, so let's do another round of six-word reviews. You know, for kicks.
"Anonymous": Shakespeare. From the director of "Godzilla". [Glenn]
"Atlas Shrugged, Part One": Objectivists don't bother with press screenings.
"Buck": The real horse whisperer is amazing.
"Cell 211": Guard impersonates prisoner during riot! Intense!
"Inni": Sigur Ros trills in London arena. [Andy]
"In Time": Time really is money, Justin Timberlake!
"Martha Marcy May Marlene": Recovery drama won't be shaken off.
"Puss in Boots": Shrek's kitty gets his own prequel. [Andy]
"The Rum Diary": Johnny Depp boozes truth to power.
"The Skin I Live In": Almodovar and Banderas reunite, get freaky. [Rad]
"Sophie": Like "Water for Elephants", but Canadian. [Susan]
"Straight to Hell Returns": Alex Cox tweaks his 1987 oddity. [Phil]
There, that was fun. And now, back to work …